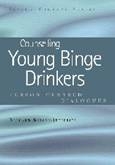 The issue of binge drinking amongst young people is becoming a significant social problem, with increasing implications for health care as well. In this latest title in the Living Therapy series Richard describes working with young binge drinkers, focusing on two specific contexts. In the first he focuses on a young teenage girl whose binge drinking causes her to have to attend Accident and Emergency. It is set in the context of a family where the mother has an alcohol problems.
'A valuable resource. Moves beyond the traditional academic approach that limits the transfer of knowledge to a restricted audience. Brings together theory and practice that is relevant to the practitioner and the layman alike. Shed[s] light on the complexity of the issues that underlie persistent and destructive self-harming behaviours. The book is written to appeal to a spectrum of audiences including supervisors, practitioners, students and laypersons.'
Robin D. Everall, PhD, Associate Professor of Counselling Psychology, Canada, in her Foreword
In the second part of Counselling Young Binge Drinkers, the author focuses on working with an older teenager who is engaging in violent activity after binge drinking. As a child, he had been exposed to violence in the home. Now a night of drinking and clubbing inevitable lead to violence towards anyone who, for whatever reasons, upset him.
'Outstanding. Extremely well written. This is a brilliant book. Richard Bryant-Jefferies certainly demonstrates the usefulness of a person-centred approach, and what he says goes far beyond just one method of counselling. Exceptionally good…very true to life, both to counselling life, and the real life of young binge drinkers. The stories of Garry and Carrie are very true to life (or to some people's lives). The engagement sections in both extended case studies are particularly good: the showing of two young people in different circumstances who do not want to be there and have counselling is especially useful. The style is extremely informative, but it also reads like a can't-put-it-down novel.'
Richard Velleman, Director, Mental Health Research and Development Unit, University of Bath, Consultant Clinical Psychologist, Avon and Wiltshire Mental Health Partnership NHS Trust, and Visiting Professor of Psychology, University of Naples
Our society shows increasing signs of alcohol dependence. And like a problem drinker is finding it increasingly difficult to acknowledge that it has a problem, a serious problem. I can handle it, it's just a phase, it has more benefits than it does harm. We hear individuals say this about their own binge-drinking. But when a society is being harmed by alcohol yet continues to say that it can handle it, that it's just a phase, that the benefits outweigh the harms, then there are serious questions to be asked. The phenomenon of young binge-drinkers is a sign and a symptom. Something is wrong. But let's not rush into simply blaming them. We would do well to seek to understand what it is, in our society, that makes alcohol such an attraction and, it seems, such a necessary prerequisite to feeling good for so many of today's young people. '.
'Well written. Vivid. … opens a window to the reader to see and feel the intricacies of individual psychotherapy and counselling. The description of the process is fascinating – capturing as it does so much of the uncertainties and the doubts as well as the breakthroughs, the moments of connection and illumination that make the whole experience so worthwhile. There are so many ways in which readers can engage with this book – through absorbing themselves in the dialogues, through taking notes of the various general comments on theory and practice that the author inserts from time to time into the text and through considering various interesting points for discussion that he poses at the end of every chapter – not least the question 'Would you have taken a different approach?' In this respect, this book can be of value to any student of psychotherapy and counselling, what ever approach is being followed.'
Peter Wilson, Retired Director of Young Minds, in his Foreword.
The author writes: 'My hope is that, in having read this latest volume in the 'Living Therapy' series, you will feel a greater sense of empathy towards young binge-drinkers, and feel in yourself able to be authentically and sensitively present with them, whatever stage they may be at either in terms of their drinking or their perception of their drinking along the problematic continuum. Society does not offer much to help young people cope with alcohol. It is advertised everywhere, glorified at times in the media, and generally treated with disrespect. With young people establishing entrenched drinking habits at earlier ages we must expect to see the serious harms to health emerging at earlier ages.'
Purchase direct from the author (see contact details), from the publisher - Routledge, or all on-line booksellers.